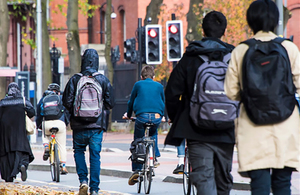 Approval for a £1.6m funding boost designed to improve walking and cycling options in Liverpool will be sought at a cabinet meeting next week.
The Liverpool City Region Combined Authority has confirmed that through funding provided to the City Region from the Department for Transport (DfT), Liverpool will receive a further £1.605m in capital funding for Active Travel for the implementation of walking and cycling measures.
A report seeks approval to accept this funding and to procure contractors and consultants to bring forward associated highway schemes.
Schemes include Crown Street/Myrtle Street Sparrow Crossing which will improve access into Crown Park and the adjacent schools and hospital. The crossing is to be futureproofed to allow for future upgrade to the Crown Street segregated cycle route, reports Insider Media.
Other schemes include additional support for Lodge Lane Mini Holland Project where funding will implement measures to complement the Mini Holland proposal. Another project is Liverpool Loop North (Vauxhall Road, Commercial Road) junctions and links which will see the design of four junctions in County and Kirkdale Wards.
A further condition of the grant is that the project is to be committed by 31 March 2023, unless otherwise agreed in writing with the Combined Authority.
Read the full article in this link:- £1.6m funding set to boost active travel in Liverpool – Highways News (highways-news.com)