DFT publishes the second Cycling and Walking Investment Strategy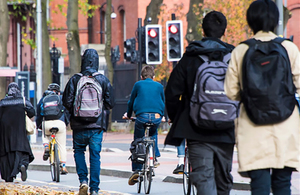 The Department for Transport publishes the second walking and cycling strategy which sets out objectives and an estimated almost £4bn of investment across Government through to 2025 to deliver the commitments outlined in the Prime Minister's 'Gear Change' plan.
The second cycling and walking investment strategy (CWIS2) outlines the government's ambition to make cycling and walking the natural choices for shorter journeys, or as part of a longer journey by 2040.
The revised objectives are to:
increase the percentage of short journeys in towns and cities that are walked or cycled
increase walking
double cycling
increase the percentage of children aged 5 to 10 who usually walk to school
This long-term approach will be supported through Active Travel England as part of a strategic objective to increase local authority capacity and capability around the delivery of active travel infrastructure and behaviour change programmes.
See the the full report in this link:-
Second cycling and walking investment strategy – July 2022 – GOV.UK (www.gov.uk)