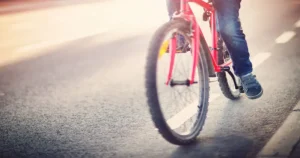 Vienna, May 9, 2023 – Cycling is more popular than ever – not only due to high fuel prices and increased climate awareness, the bicycle is a popular alternative to the car.
However, bicycles offer little protection in open traffic, and while it is generally considered safe, even small accidents can lead to serious injuries to cyclists.
For this reason, Kapsch TrafficCom, in consortium with other organisations, began researching ways to make bicycle traffic safer as early as 2020. In the course of the "Bike2CAV" project, the focus was primarily placed on road junctions, as these are traffic hubs with a high potential for collisions.
Carolin Treichl, EVP EMENA at Kapsch TrafficCom, comments: "Intersections are the neuralgic point of the road infrastructure. All types of mobility come into contact with each other here, which of course also increases the risk of accidents. The potential of Connected Vehicle technology for accident avoidance and traffic improvement is huge – regardless of whether you're in a car, on a bike or on your own two legs."
The Bike2CAV project
At its core, the project is about increasing safety for cyclists through cooperative detection of potential collision risks. To avoid collisions, traffic cameras were mounted on poles at intersections and equipped with AI software that analyses traffic, anticipates critical situations and can issue warnings within fractions of a second. In addition, a research bicycle and a car were equipped with sensors and transmitters that exchange position, speed and direction of movement with each other using C-ITS technologies.
So, for example, if a car crosses a lane while a bicycle is approaching, the Bike2CAV system detects this and sends a warning to all V2X-enabled road users. Thus, warning signals are sent within less than half a second, helping to prevent an accident.
The result
The primary goal of the project is to reduce the risk of collisions and thus increase the safety of traffic in the intersection area – this was achieved through the technology used. In addition, insights were gained into the use of corresponding systems and potential further safety measures.
"The project is a complete success and has once again proven the effectiveness of Connected Vehicle technology in increasing road safety," says Steve Parsons.