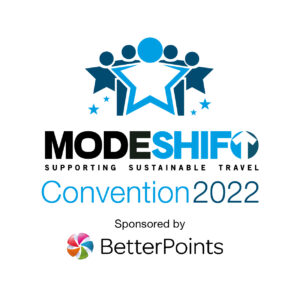 The Annual Modeshift Convention returns to Leicester at the Athena Conference Centre on 3rd and 4th November and bookings are now live!
Local authority Members of Modeshift receive one free fully-inclusive space (including accommodation) at the Convention; and Modeshift Partners receive up to two free places (excluding accommodation).
Look out for a separate email with your booking code to secure your free place. 
All other ticket options can be viewed on our Eventbrite booking page.
Book Now – Modeshift Convention 2022 Tickets, Thu 3 Nov 2022 at 09:00 | Eventbrite
Due to the continued growth of Modeshift, this year's Convention will be split across two venues on Day two. Please be sure to pay careful attention to the agenda to ensure you are able to attend the sessions that you are most interested in when making your booking.
The options are to attend a session on 'Routes to Net Zero' in the Athena Main Hall or a session at the nearby Mercure Hotel titled 'Focus on education settings'.
Lunch on day two will be back at the Athena for all delegates.
If you have any questions regarding this year's Convention then please email events@modeshift.org.uk.
We look forward to seeing you in Leicester!