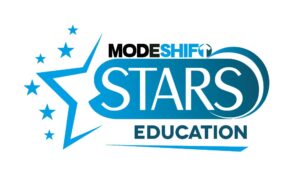 We are delighted to celebrate the success of Forest Park School for achieving their Outstanding STARS Accreditation.  The school were also winners at the recent  Modeshift National School Travel Awards, receiving an award for National SEND School of the Year for 2022/ 2023!
We thought we would share their journey with you, and we are sure you will agree they are a real inspiration!
Education Establishment  Forest Park School
What level accreditation have you have? Outstanding
What made you get involved in Modeshift STARS and develop your Travel Plan?
It all started with a requirement for planning but we quite quickly realised that we could potentially win an award for something we were having to do. The enthusiasm of our Hampshire officer for Modeshift also made us look more closely.
What did you want to achieve from developing your Travel Plan? Were you trying to address any specific issues? If so what were they and have they been addressed?
We were having buildings moved which increased our provision as well, developing our travel plan for this meant we could also add to our sustainability and teaching the children about road safety.
Who has been involved in delivering your Travel Plan?
A team within school and our Modeshift officer from Hampshire
What positive outcomes have you seen at your school as a result of developing the Travel Plan?
We have become National SEND school of the year- we can't say better than that!
What would you say to anyone thinking about starting their Modeshift STARS journey?
If you have to do a Travel Plan for building work. Don't let it be a chore, make it part of the children's learning. You can make it fun and rewarding without it being just another tick box. This relates to real life and so it is important that children understand about sustainability and being safe.