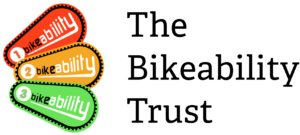 The Bikeability Trust
Website: https://Bikeability | Cycle training for everyone, delivering better, safer cycling
Contact:
+44 (0) 01223 606027
Tell us what you offer and about your organisation? The Bikeability Trust is a Charitable Incorporated Organisation with the vision to ensure everyone has the confidence to cycle and enjoy this skill for life. The Trust manages, develops and promotes the Bikeability programme on behalf of the Department for Transport.
Bikeability is the Department for Transport's flagship national cycle training programme for schoolchildren in England, and is a key component of Gear Change. Bikeability cycle training is a practical training programme, which provides schoolchildren with a life skill and enables them to cycle confidently and competently on today's roads.
What do you like about being a Modeshift Partner/Supporter? We love working with Modeshift to embed active travel into schools. As a result, more children cycle to school which in turn improves mental health and wellbeing. This allows children to get more out of the classroom and gain independence, social skills and a sense of wellbeing.
Fun Fact: Over 3.5 million children have received Bikeability cycle training!